The benefits of electric boating are innumerable.
We list the most important ones for you:
On our website there is a calculation of two situations, as a professional fisherman or as an individual. It is true that the purchase is pricey, but you have to factor in the savings on maintenance and running costs.

From 2025, your diesel or petrol engine will not be worth much. More and more cities and nature parks will start te ban traditional internal combustion engines. The demand for boats equipped with diesel or petrol engines will therefore decrease in the near future.
For sailboats, the usefulness of electric sailing becomes even greater:
The batteries provide excellent ballast

Electric cooking which means you no longer need gas (dangerous) on board.

Batteries can be recharged while sailing (called regeneration). There are already sailing boats that have crossed the ocean!

Sailboats that make long sea trips and want to sail on the engine for a long time in the event of a lull in the wind, can also carry a diesel generator for these exceptional circumstances (because something like this usually does not happen more than twice a year) to increase the range.
We don't even have to explain this ourselves, look at all the daily articles in the media.
AS AN EXTRA HOUSE BATTERY
Do you live by the water? Then you can store the generated power from your (home) solar panels in your boat's batteries. The app can even manage this for you.
People often think that the range of an electric boat is not enough. But ask yourself the question: " How many hours do you sail per day?" Charging at night is enough to set off again the next day with full batteries. Even if only 16 amps are available in port.
A foiling cruise motorboat with 2 berths and a range of over 100km.
Candela White DC Sand Upholstery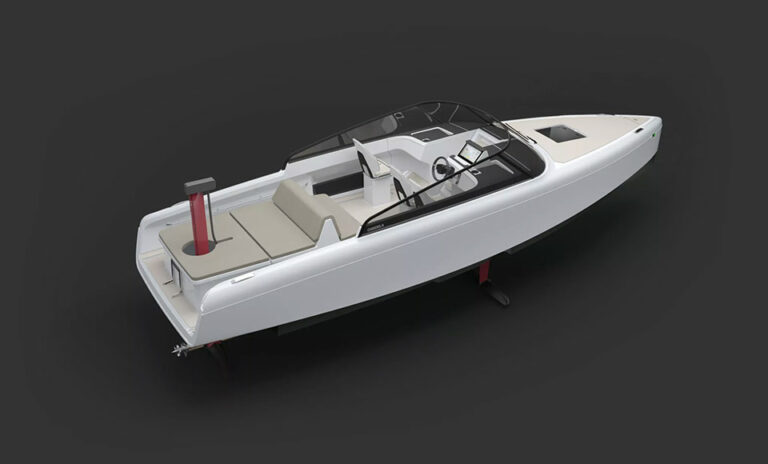 You can make your boat electric from €22,000, a fast powerboat from €96,000.
But come and experience it for yourself, electric boats are available for hire at our premises.
Contact us for information: